Hilton Head Fishing Charters — April & May 2021
Update: April 2021
Spring is here! The water is warming up and so is the action both inshore and offshore. We're getting to one of our favorite times for fishing in Hilton Head, from roughly mid-April through all of May and well into June, when the action is HOT.
Shark Fishing — They'rrrrrre Baaaack
Just over the first couple weeks of the month we are seeing our first inshore sharks of the season. Small Hammerheads (Bonnethead Sharks), Finetooth, Sandbar, and the soon to be everywhere Atlantic Sharpnose have all been caught so far on our inshore fishing charters. We also have some bigger sharks nearshore at some of the reefs.
Catching live bait has been tough so far, but not impossible. Starting to see hints of pogies and some mullet in the creeks but it hasn't turned "on" quite yet. Still carrying frozen backup but we expect live bait to arrive en masse perhaps by the time you read this.
Nearshore and Reef Fishing
April is an "any day now" month with the seasonal arrival of several fish species small and large, and that includes cobia showing up in great numbers. Current nearshore reef action is steady with Black Sea Bass, Sheepshead*, Spade Fish, and Bonita. Also by the time you see this, we expect Spanish Mackerel to be in the mix.
*A special note for fisherman from the upper Midwest: our saltwater Sheepshead is NOT the fish you think of in the Great Lakes called a "Sheepshead" that is a freshwater drum and not commonly eaten. The saltwater Sheepshead is an entirely different fish. Fun to catch, great eating, and a popular local target.
Inshore Fishing
As the Cobia move into the reefs, the inshore spawning group will start coming inshore to the sounds and rivers. We can target them on shorter 3-4 hour inshore trips. Understand that the small sharks greatly outnumber the cobia inshore so it's more like "shark fishing with a chance at cobia" on these inshore trips. Also, note that during the month of May, all anglers must release Cobia in SC State Waters (inshore and nearshore up to 3 miles off the beach). During May we can still keep them when we're fishing at the reefs and further offshore. (When doing so, we may not fish in state waters upon our return.) This is great news for local Cobia as we need to give them this opportunity to spawn inshore during May so that we can keep the population healthy.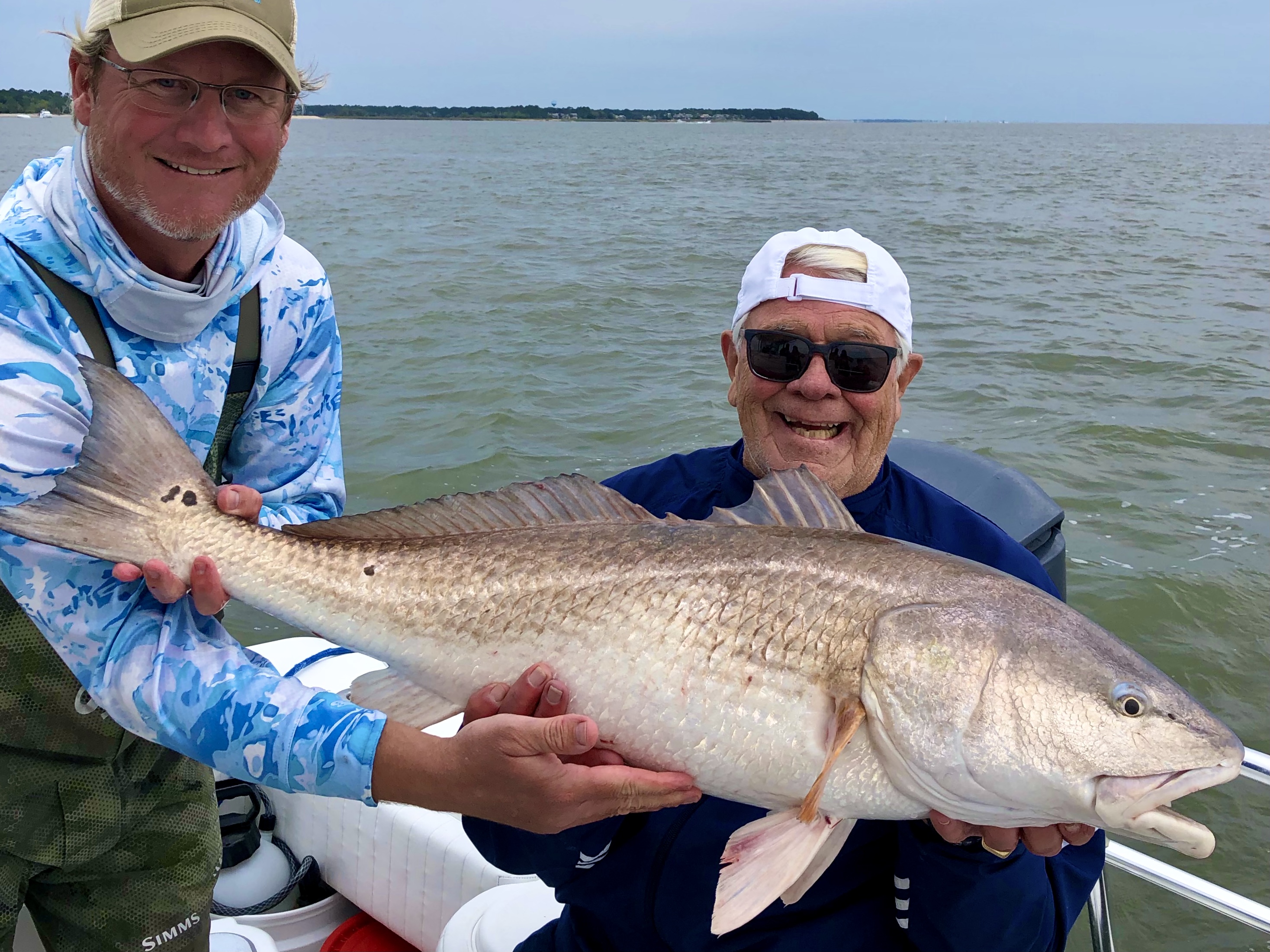 We just caught the first of many larger bull red drum this week inshore. While they are more commonly seen during Late Summer and Early Fall when they gather to spawn, right now the water temps and daylight length is similar, so perhaps they are gathering in those same hot spots as if enticed into a "false-spawn" because of similar conditions.
Offshore and Deep Sea Fishing
Last but certainly not least, the Offshore Fishing action in the so-called deep sea is about "as good as it gets" on many days during April/May/June. Wahoo, Dolphin(Dorado/Mahi), Blackfin Tuna, King Mackerel, Amberjack, Snapper, Trigger, and MORE. This is one of those times of year that if the ocean permits it, going deep offshore is always a good call. I may have written the least here about offshore fishing, but listen to me when I say this: It's time to catch fish!
Capt. Blair