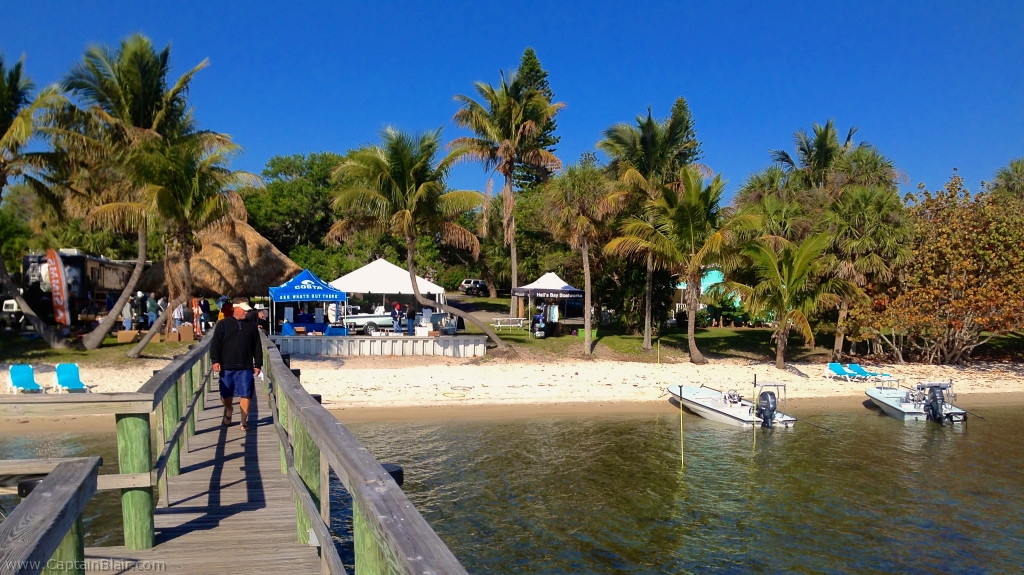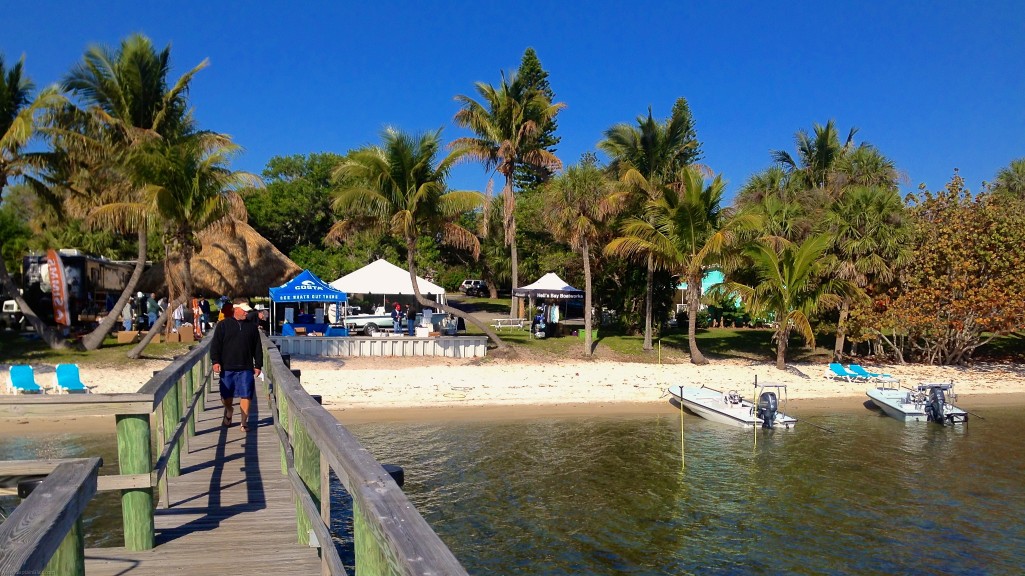 Live Oac Captains Blair Willis & John Werner departed the chilly waters of Hilton Head Island for the warmer, clearer shores of south Florida. We represented our team of pro guides at a special event on the Atlantic Intracoastal Waterway several hundred miles south of where we usually hang out. What an adventure, and what an opportunity.
We had the chance to meet with some sponsors and learn more about current and future products in our industry. We discussed design and construction, and provided some real-life feedback from our experience on the water. Folks, there is a reason we choose the equipment we use, such as the Simms Ultralight shirts you see here: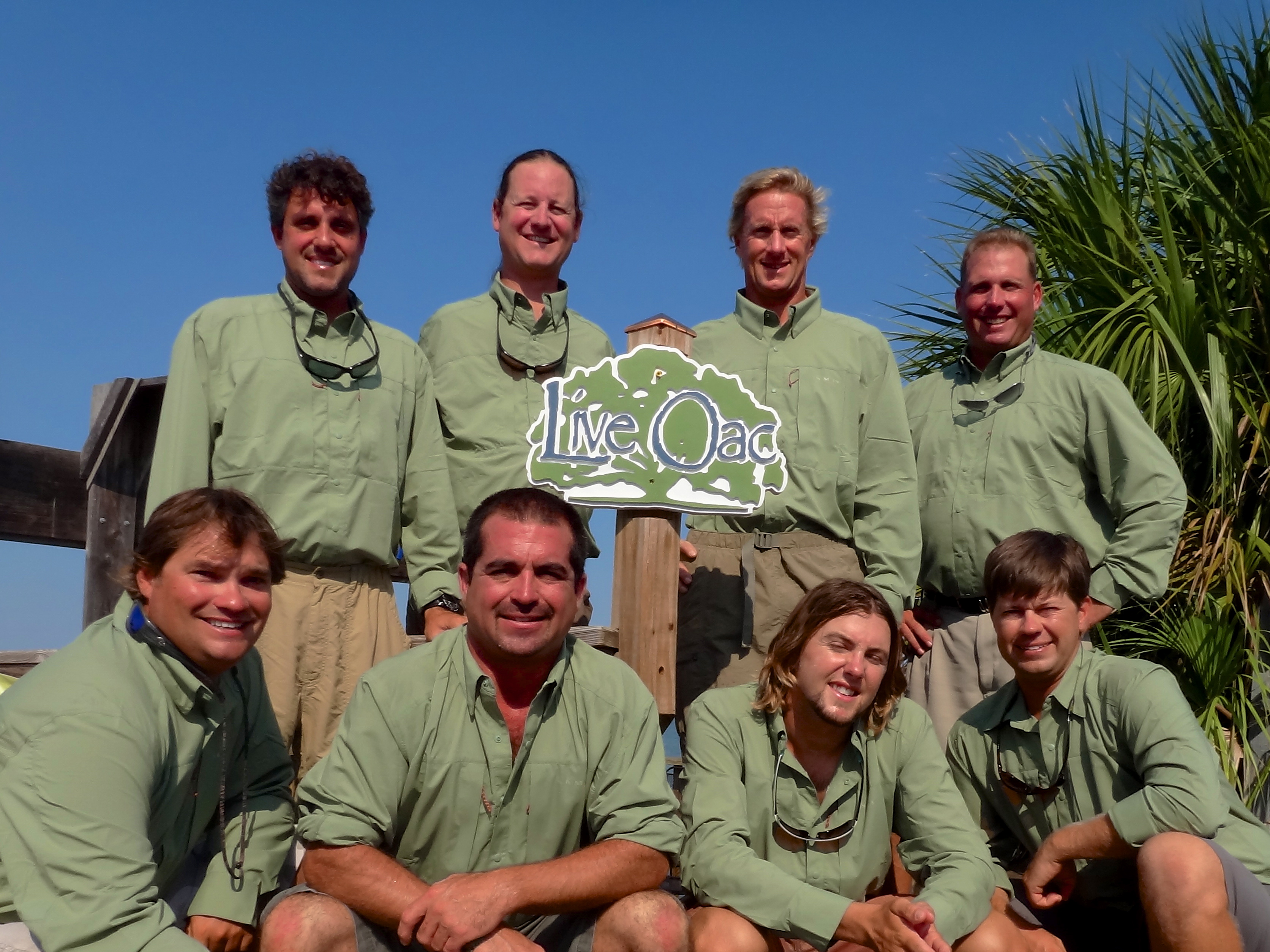 When you're in the Hilton Head sunshine every day, you need something that will protect you from UV rays and keep you cool and comfortable. The Ultralight shirt is exactly that… ultralight sun protection. It's no exaggeration that these shirts still look this good after dozens and dozens of days on the water. In addition to the Ultralight shirts, we're big fans of the Solarflex, another great choice for hot days in the sun. We'll be adding some new products from Simms and will at times have some spare gear on hand for clients, too.
You can pick up the same gear the pros use just across the bridge from Live Oac, at Southern Drawl Outfitters.
It was great to get together with guides from all over the U.S. and share ideas and techniques with other professional guides. Beyond the "serious" talk there was a whole lot of fun. John took part in a flats boat rodeo that involved poling a Hell's Bay skiff in a bit of wind around some obstacles and while his partner Mike casts a fly into a hula hoop target:
I'll say that while John and Mike might not have succeeded in winning in the friendly competition, I thought it was successful if only for the fact that nobody fell off the boat, and everyone had fun!
We've returned from this event with lots of great ideas that you'll see put in action this season. Previously some of our boats were outfitted with Yeti Coolers. There were always one or two on the flats boat, and we started testing a Yeti as substitute for a Captain's chair on the deck boats. This summer, expect to find at least one Yeti on every boat, and ice cold bottled water inside.
We finished off the event kicking back and watching some outstanding fishing videos from all over the world. It's moments like that which remind me there's very little separation between what I do for work and what I do for fun. It's all fun.
Speaking of fun, the first night there we spent waaaay too much time looking off the dock to the edge of the lights where a big school of snook were hiding. We realized after a few casts that these fish weren't interested in anything we were throwing at them. I felt better finding out the next day that those snook are local to the dock and are virtually uncatchable. At least that's the story fellow fishermen conjured up to comfort one another in their frustration.
Since we had arrived at night, we didn't get the chance to really appreciate the clear South Florida water until the next morning when the sun was up. Yep, the snook were still there, and they were just as visible with my x-ray vision googles, I mean my Costa sunglasses. I'll admit, I'm a bit of a gear nut, and later that morning when Costa Del Mar started to show us some of the cool new frames and lenses they've created, I was pretty fired up. I've been a big fan of the 580 glass lenses for years, in both the blue and green mirrored colors, but I'm going to try out the new Sunrise lens for mornings and evenings. Watch out redfish, here I come!
John and I returned from the event even more excited than usual about fishing, boating, and life in general. The opportunity to interact with a group of professionals that share this excitement is priceless. A special thanks to the sponsoring companies that made this possible!