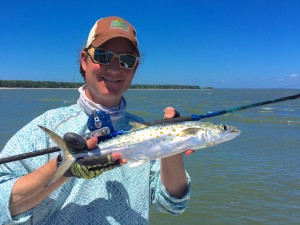 These are some of the most popular Fishing Charter selections available with Captain Blair.
Every charter includes all licensing, tackle, bait and/or lures, ice, and bottled water.
Trips are appropriate for 1-6 anglers depending on the chosen approach. For larger parties, multiple vessels can be arranged with other Captains from the Live Oac team.
Hilton Head Fishing Charters
Redfish Charters

Big Reds
(Early-Mid Fall inshore, and year round offshore)  The largest Redfish (Red Drum) travel inshore along Hilton Head to Spawn beginning at the end of summer and lasting several weeks into fall. We will see some while fishing the smaller creeks when casting lighter tackle, but the primary approach is bottom fishing select areas with live bottom where the Bull Reds are known to congregate. We're using live/cut bait on mid weight tackle so as not to wear out these behemoths for a successful release. Fall is one of my favorite seasons for catching Red Drum, and there is nothing like catching a huge trophy fish to make the memory of a lifetime. Up to 6 max anglers aboard "A Live One". 4+ hours recommended.
Flats Fishing for Tailing Reds
(Year round on BIG tides)  We're going to push pole across skinny water in search of tailing Redfish. These fish are so intent on feeding on fiddler crabs and other critters that they don't realize (or hardly care) that their tails are waving like a flag in the breeze. I still get excited every time I see that classic spot-tail waving hello across the marsh flat. That means the hunt is on, and it's up to us to get within casting distance quietly. 1-2 anglers max. 4 hours minimum.
Specks & Reds in the Creek
(Year round, peaks in Fall)  Fall is the time to pursue large schools of Speckled Sea Trout in the creeks. We're primarily casting artificial soft plastics, but also use plugs, live shrimp or mud minnows on occasion. 1-2 anglers ideal. 4 hours recommended.
Shark Fishing Charters in Hilton Head
Shark Week is Every Week. Well, at least every week when it's "warm". Sharks are some of our most popular targets when the water is warm. We have a few different approaches. Ask us what might suit your group best if you're not sure.
Inshore Shark Fishing
(Apr – Oct)  Our most popular shark trip, and suitable for almost all ages. We're looking to catch and release as many sharks as possible. Our approach adapts to the group. Up to 6 anglers. 3-5 hours. Mornings and Evenings are strongly recommended during Summer for the most comfortable experience.
Sharks on Sight
(Apr – Oct)  There are certain moments when we can track sharks in shallow inshore waters. Our goal is to locate, stalk, capture, and release these fierce predators. You will not find a stronger, better fighting target in our creeks. We use light tackle and make it as fair a fight possible. 1-2 anglers ideal. 4 hours recommended. 
Monster Sharks
(Apr – Oct)  Big bait, Big tackle, Big Sharks. This trip is not for the faint of heart. You're going to need some athletic preparation if you want to tackle a truly large shark. We consider a "Monster" shark to be about your length or bigger. Sometimes MUCH bigger. You can choose to battle a big one on your own, but it's not a bad idea to make it a team effort. Up to 6 guests aboard "A Live One". 4 hours minimum.
Cobia Fishing Charters
Inshore Rip Fishing for Cobia
(April – Early June)  The Hilton Head area is home to one of the largest, if not the largest, inshore Cobia spawn in the southeast. For a few weeks in Spring, thousands of these chocolate brown finfish head into warming coastal estuaries to mate. The males are smaller, often in the 15-30lb range, and females more than double that. Expect some long fast running from these hefty fish with a bad attitude. These fish tend to congregate in specific areas along tidal rips from sand bars or live bottom. We're fishing at anchor, top and bottom, working one spot usually for the duration. The Cobia arrival is also marked by the beginning of Shark season, so we'll likely see plenty of those as they are going for the same live baits. Up to 6 max anglers on "A Live One". Options from 3 to 6 hours.
Sight Fishing for Cobia
(April – Early June)  Fly or Spin tackle. It's got to be the perfect moment, but we'll do our best to schedule it just right with the weather and the tide to put you in position to sight cast to a "Brownie." Ideally we need slick calm water, and this is most likely in the morning. Dead high tide is perfect. There are literally going to be only a handful of days where this will work, but we specifically schedule you for the best possibilities. We'll also spend some time actively fishing other methods and/or targets, but a lot goes into making sure we're in the right place at the right time for a once in a lifetime shot at a Cobia. 1 or 2 adults ideal, aboard the Yellowfin 17 Skiff. 5 hours recommended.

Offshore Fishing for Cobia
(April – June)  About 20 miles offshore of Hilton Head is probably the best place on the mid-Atlantic coast for cobia fishing: the Betsy Ross artificial reef. Our chances of a cobia hookup are significantly higher when we take the time to travel offshore to this "resort" for spawning cobia. Think of it as a "Cobia Club Med". When it's on, it's ON, and we want to take you there. Due to the distance and travel time involved, this is a minimum 5 hour trip with 6-8 hours recommended. Offshore rates apply. 4 people max, ages 13+ only.
6 hour inshore "Tide to Tide"
4 hour inshore
3 hour evening
2 hour Little Anglers fishing